Carly Brooke Snow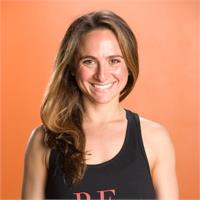 I have practiced yoga for well over a decade. With my athletic background, I gravitated to yoga to satisfy some deep physical needs and in the midst of doing so, I discovered an exercise that embraced the beauty of difference and strength in a safe and non-competitive atmosphere.
The practice was intimately and rapidly evolving as a means to tap more deeply into my truth while making amends with the most important relationship there is, the relationship within my soul. We all encounter trauma in different ways and on many levels. Living what we learn of who we are on the mat and then taking our identity off the mat is where the ultimate practice for me has been experienced. I have participated in several yoga and Pilates trainings over many years and forever plan to expand my knowledge of life so I can continue to love and participate as free and open as I desire. For me, there is no limit, so that's where I intend to direct my passion for life.
When away from my mat practice and teaching, you can find me playing with my doggies and connecting with my infinite soulmate, Chris Snow. I am passionate about hiking, teaching and practicing Pilates, rock climbing, skiing, jogging, reading, cooking and spending time with friends and family. I promise to always share my deep connection of the mind, body and soul with as many individuals as possible. If you come to my class, you'll see I portray a combo of spunk and play while holding an intense, intimate passion that comes through in deep and thoughtful meditation. Together we can learn to love the comfort and discomfort equally while cushioning our minds with a stable pillow to soften around any struggle. I say, Smile and be beautiful, because you are.
Namaste
Carly Brooke Snow instructs the following:
All levels 45 minute SLPY Flow®. Perfect for your lunch break!




All levels 60 minute SLPY Flow® .




Shut down and Restart. From your iPhone to your mani-pedi everything requires some maintenance, a tune up or perhaps an upgrade. You commit to a workout schedule to keep your body fit but what about keeping your mind fit? Fit, flexible and on fleek the Coaching Circle is an opportunity for you to drop in for an hour and step out with a new perspective, enhanced communication and a greater sense of joy.

*students to bring a journal, pen and an open mind

This series will be led by Carly Snow AMFT and E-RYT1000 and Misty Medina CPC, E-RYT500 and certified meditation teacher.