Parinaz Samimi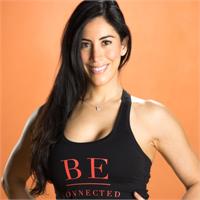 Exercise was never my favorite thing to do. Walking was the most energy I was willing to exert and I did it primarily for aesthetic purposes. I disliked discomfort and fatigue and lacked the mental discipline to push myself to new heights.
My appreciation for fitness began in 2007 when I fell in love with Muay Thai Kickboxing. I trained intensely with a four time Muay Thai world champion and thus began my love affair with martial arts. However, I still struggled mentally and had difficulty overcoming my fears of pain and discomfort. My Muay Thai training exposed me to intense cross training with the finest trainers in Salt Lake City where saying "I can't" would result in being asked to leave the gym. It was then that I finally began breaking out of my shell and understanding the link between physical and mental discipline. I learned that my greatest limitation was my mind and that my body could perform far more than the mind allows. Learning to overcome my fears and mental barriers remains a great challenge. It motivates me to engage in activities where I am faced with pushing myself and exceeding my own expectations. In addition to Muay Thai Kickboxing and cross training I am also passionate about Brazilian Jiu Jitsu and ballroom dancing.
My introduction to yoga was in 2006 with the intent of getting a good stretch. I became slightly discouraged because I hated the feeling of blood rushing to my head in down dog and I was the only person who couldn't do handstands. Yoga didn't exactly become part of my routine physical activities at that time. I would drop in every now and then when I was too lazy to do anything else and hoped that handstands wouldn't be included in the class curriculum. It was not until February 2012 that I discovered Baptiste Power Yoga and gained tremendous appreciation for this form of yoga. My initial intent with practicing Baptiste Yoga was for recovery purposes but with time and regular practice, I have been enlightened about the multitude of benefits that I acquire with each practice. I have gained a new awareness of my body, mind, and soul. Every practice stimulates me mentally, challenges me physically, and allows me to excel emotionally. It gives me a sense of empowerment as it allows me to set new goals, become focused, and love myself and my body. Yoga is my time to connect with myself and other amazing individuals. In August 2012 I completed the level 1 teacher training with Baron Baptiste and have acquired new insight into the meaning of yoga. I hope to share my experience with my students and provide them with a source of inspiration.
Parinaz Samimi instructs the following:
Power Sculpt is a variation of the SLPY Flow® that incorporates free weights. This class has the ability to help sculpt your yoga body into its best and most muscular and cardio capable form. A muscle-fatiguer's paradise!




All levels 60 minute SLPY Flow® .