PowerRestore - 75 Minutes
This class is taught by: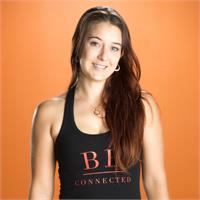 I grew up a dancer and learned to express my soul through physical movement. I studied physical movement in college and even got my bachelor's degree in Kinesiology. I moved to Utah to get my Master's Degree in Sports Medicine and became an Athletic Trainer. I remember having an aversion to yoga and thinking I didn't "need anyone to show me how to stretch. I was a dancer with an extensive background in anatomy." I had no idea what I was missing.
When I got sober in 2011, I explored a variety of spiritual tools as part of my recovery program. I read books, practiced meditation, and finally, I tried yoga. Immediately, I was hooked. Yoga seemed to combine my love of fitness, the soul expression through movement, and a spiritual practice like I had never known. It made me feel complete, whole, and new. I was evolving.
During my 200 hours of teacher training at Salt Lake Power Yoga, it became crystal clear that this was my path. I wanted to share what I had learned. I needed to teach—to spread the word. Now, I am a yoga teacher. I inspire and facilitate the evolution of others in mind, body, and soul.
My yoga journey began over 6 years ago at the recommendation of my Physical Therapist due to on-going running injuries. My gym offered yoga and I found myself becoming a regular at some of the classes. With some a little bit of "peer pressure" I was persuaded to try another local studio where I found a greater appreciation for yoga. During this same time some friends who were out of state through Facebook posts realized we all had started practicing yoga. One of us made a suggestion to do 30 day yoga challenge, each time we practiced, we posted on Facebook that we had completed that day's yoga practice holding each other accountable. I thought I was already hooked with a healthy addiction to yoga, but that 30 day challenge sparked my curiosity as I started to see shifts in my life. I began to find ways to learn more about yoga.
Fast forward a few years I found myself on my mat at Salt Lake Power Yoga. The flow and the heated practice felt amazing in my body. At SLPY I found what I was looking for: a practice that challenges me physically, emotionally, and spiritually to find my edge so that I can continue to grow and be more fully present in my life and for the people in my life.
With no real desire to teach, Jen Reuben kept suggesting I consider teaching. With some hesitation I started teaching and completed my Level 1 Baptiste Training in June 2013. My intention for each class is to create a powerful experience through an invigorating practice with movement and breath. My classes are rigorous and fun, working out both body and mind. I am lucky that I get to share my love of yoga and this life-changing practice as an instructor at SLPY. I am continually inspired by our commUNITY here at SLPY and learn from all of you. Hope to see you soon in the studio and on your mat getting your sweat on!
Benefits beginners, those with stiffer bodies as well as long-term practitioners. Find the softer side of your practice with PowerRestore. These gentle asanas are designed to soften tension and soothe your body to a state of blissful nirvana.
Upcoming classes: